Jennifer Welsh
I demystify the stock market for new investors
Investing is made to feel intimidating to most people. And I hate that. You don't need to be rich or sophisticated to participate.

I teach simple ways to manage personal finances and make long-term investing a priority.
Subscribe to my newsletter to get money tips every Tuesday.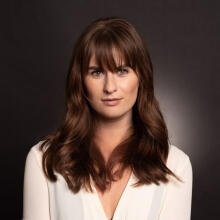 Money School: Basics of Personal Finance
Almost everything I know about financial wellness, packed into a short digital course.

I share the knowledge I used to go from $30k in credit card debt at age 32, to pacing towards retirement by 49.

Here's the problem: We're supposed to grow up and manage our finances responsibly. So why didn't anyone teach us about this in school? That baffles me.

I spent most of my life tortured by money one way or another. And by age 32, I was sitting on heaps of credit card debt with no real savings & no path to dig my way out.

I worked hard and played hard. And I never knew how to take care of the money I earned. So I made a lot of mistakes. And I learned about personal finance the hard way.

But I eventually changed my mind. I began appreciating savings & security over stuff. I paid off my debts, incredibly. And you know what? It wasn't so much about dollars as it was about mindset.

This course is a love letter to the old me. It covers the basics of personal finance I wish I'd understood a long time ago.

You'll get the basics of money management, packed into a short digital course, including:

The week-by-week strategy I used to pay off my debtThe simple, 4-step game plan to a proper family budgetThe fool-proof strategy for mindful spendingThe 3 critical components to setting up a savings planOne tried-and-true method to get started in the stock market
I provide simple explanations & tips on subjects we manage in our everyday lives - including debt, budgeting, spending, saving, and investing.

And by the end, you'll understand why these pillars of money management matter, how they all work together, and what you can do to improve your financial outlook today.

Here's a sneak preview of what's inside. Check it out.

Contents
Part 1: Course Intro
Intro, objectives & outline

Part 2: Debt
What is debt?
Why does it matter?
A game plan for paying off debt

Part 3: Budgeting
The importance of budgeting
How to create your budget
How to track & analyze your progress

Part 4: Spending

The Spending Mindset
How to reduce spending
Living below your means

Part 5: Saving
Why it matters
Building your emergency fund
Setting up a long-term savings plan

Part 6: Investing
Why is investing important?
Compound interest: how it works, and how it can work for you
Investing in dividend stocks & funds
A simple plan to start investing

Part 7: Your Homework
Your money makeover action checklist.

FAQs
Who is this course made for?

This course is for anyone who wants learn the basic elements of financial health & how to get started.

Why is financial literacy important?

The mistakes I made with my finances happened because I didn't know any better. Knowledge is power.

Why the heck should I listen to you? Who are you?

I'm a regular person just like you. I'm not a stock broker or a financial advisor, or anything like that. I'm just a person that clawed my way out of debt and started investing my money in the stock market. In the process of doing all that, I discovered that money management & stock market investing isn't nearly as complicated as the financial industry would like you to think. I aim to make personal finance & investing approachable to the average person. No financial wizardry here. Just solid advice in plain English.

What will I learn in this course?

How to wrap your mind around your money, in an approachable way. Simple action steps to pay off debt, create & follow a budget, save as a habit, and start investing in the stock market.

Ok. Got it. This must be expensive right?

Nope. It's $35.

How long will it take to see results?

It depends on your financial situation, so that I can't say. But I'll tell you this: financial wellness is a long-game.

I don't have any overnight hacks or secrets for solving enormous credit card debt overnight. I don't talk about crypto-currency or risky ways to make money fast.

I educate people on the basic elements of personal finance & stock market investing. My information appeals to people playing the long-game.

Ok. What do I do if I want to enroll?

Click the "buy this" button.
About Me
I was introduced to investing in 2008, when the stock markets crashed along with the economy. I was a waitress in Chicago, scraping by and accumulating credit card debt like a competitive sport. My dad was a stock broker.

My dad said "If you have any interest in investing, now is the time to start. Everything's on sale."

I opened an Etrade account + put a little $$ into the market. I fell in love with picking stocks and watching them.

It was a wise move, but I didn't create an investment strategy, and I didn't contribute to my account regularly. Over the years, I sold my stocks when I was broke and desperate 👎🏻

Had I held on, those investments would have paid off handsomely. But I didn't have a disciplined approach to my investments, or my finances in general. So I missed out.
---
Finances aside, the Chicago waitress job was a serendipitous gig. One night, I waited on the founder of a fast-growing startup in New York City, and he offered me a job. I moved to New York a month later, and I met my future husband at the company I joined.

As I began my startup career, my investing days were behind me. I had a 401K for the first time in my life, and my Etrade account dwindled to a forgotten hobby and password. Investing was out of sight and out of mind.
---
When the market crashed again in 2020, I was married and living in Los Angeles. I'd experienced a decade of career success, and I was no longer buried in credit card debt.

My dad's words came back to me... "Everything's on sale". This time around, I had the resources to respond to the sale. I understood it from a new perspective. And I saw an opportunity to atone for my young investor mistakes. I was ready to start investing again, with a long-game mindset.

I became obsessed with researching stocks and data. I started actively investing, and I developed a decision-making process.

As I learned more, I talked with friends about their views on investing. Time and again, I was surprised to learn that many people think the stock market is a foreign language they just don't speak.

So I started showing some friends how I make decisions. I made it simple and easy to understand.

I got a lot of joy from demystifying the stock market so my friends could start investing too, without feeling intimidated.

With their encouragement, I decided to start sharing this more publicly. I'm no Warren Buffett. But if you're interested in learning the basics about investing in the stock market, then you're in the right place.
Book A Call With Me
I teach the basics of personal finance and stock market investing so you can make the most of your money.

If you're ready to improve your financial outlook and need a little guidance, schedule a 1:1 call with me.

I offer 60-minute sessions for $229.
Hire Me To Talk To Your Group
I believe investing in the stock market is the most reliable way to grow a nest egg for the long-term.

I empower people to gain control of their personal finances and begin their investing journeys.

You can hire me to deliver a customized presentation to your team. I talk about debt, budgeting, saving, money mindset, and stock market investing.

If you're interested in hiring me for a speaking engagement, fill out the contact form below, and tell me about your event.
Terms of Service
Jennifer Welsh provides customers with financial and investment educational services.
Customers acknowledge that Jennifer Welsh is not a financial expert or certified investment or financial advisor of any kind.
NOW THEREFORE, in consideration for those services, customer agrees as follows:
No Representations or Warranties; Non-Reliance. SERVICE PROVIDER, NOR ANY OTHER PERSON ON SUCH PARTY'S BEHALF, HAS MADE OR MAKES ANY EXPRESS OR IMPLIED REPRESENTATION OR WARRANTY, EITHER ORAL OR WRITTEN, WHETHER ARISING BY LAW, COURSE OF DEALING, COURSE OF PERFORMANCE, USAGE, TRADE, OR OTHERWISE, ALL OF WHICH ARE EXPRESSLY DISCLAIMED, AND CUSTOMER ACKNOWLEDGES THAT IT HAS NOT RELIED UPON ANY REPRESENTATION OR WARRANTY MADE BY SERVICE PROVIDER, OR ANY OTHER PERSON ON SERVICE PROVIDER'S BEHALF.
Limitation of Liability. IN NO EVENT SHALL SERVICE PROVIDER OR ANY OF ITS REPRESENTATIVES BE LIABLE FOR CONSEQUENTIAL, INDIRECT, INCIDENTAL, SPECIAL, EXEMPLARY, PUNITIVE OR ENHANCED DAMAGES, LOST PROFITS OR REVENUES, OR DIMINUTION IN VALUE, ARISING OUT OF, RELATING TO, OR IN CONNECTION WITH THIS AGREEMENT, REGARDLESS OF (A) WHETHER SUCH DAMAGES WERE FORESEEABLE, (B) WHETHER OR NOT CUSTOMER WAS ADVISED OF THE POSSIBILITY OF SUCH DAMAGES AND (C) THE LEGAL OR EQUITABLE THEORY (CONTRACT, TORT OR OTHERWISE) UPON WHICH THE CLAIM IS BASED. CUSTOMER UNDERSTANDS THAT ALL INVESTMENTS COME WITH RISK AND THAT SERVICE PROVIDER WILL NOT BE LIABLE FOR DAMAGES OF ANY KIND ASSOCIATED WITH THESE SERVICES NO MATTER THE RESULT OF CUSTOMERS INVESTMENTS ASSOCIATED WITH THESE SERVICES.